JFE EH 400 Plates
JFE EH 400, JFE EH 400 Steel Plates, JFE EH 400 Suppliers, JFE EH 400 Abrasion Resistant Steel Plates Stockists, Manufacturer, Mumbai, India.
JFE EVERHARD EH400 Wear Abrasion Resistant Steel Plates, JFE EH 400 Wear Plates, 400 JFE Everhard Plate, Hot Rolled JFE EH 400 Steel Plate Dealer, Supplier
Aspirinox Alloys Inc is stockist and supplier of abrasion corrosion resistant JFE EH 400 Plates. Made using JFE EVERHARD these plates can be fabricated into any desired form. They have a wide application swearing to their hardness, abrasion resistance, formability, toughness and durability. Alloy metals are added to provide surface hardness in JFE 400 Flat Plates.
Aspirinox JFE EVERHARD 400 Plates are hardened by quenching and tempered. High weldability, toughness comes along low-temperature JFE 400 Plates. Despite having a low carbon content, plates don't undergo putrefaction by industrial milieu.
They can stand low temperatures suitable for metallurgical processes. Gas industry machines that reach low freezing temperatures – 40°C and below use JFE EH 400 Plates. Thicknesses of JFE EH 400 Plates are intermediate between EH 500 and EH 360 plates. The packaging of JFE 400 Plates is in non-wound form and can be cold processed.
Mixing of alloy metals is low to ensure that the plates have high weldability. Aspirinox JFE 400 Plates are customizable to suit your needs. JFE EH 400 Plates are widely used in industries manufacturing chemicals, farm equipment, construction materials, and cement.
Aspirinox is JFE EH 400 Abrasion Resistant Steel Plates Distributor dealing in different types of JFE 400 Steel Plates,. We are proud to have competitive JFE EH 400 Plates price in the market. Call us to get your personalized quote.
JFE EH 400 Plates Details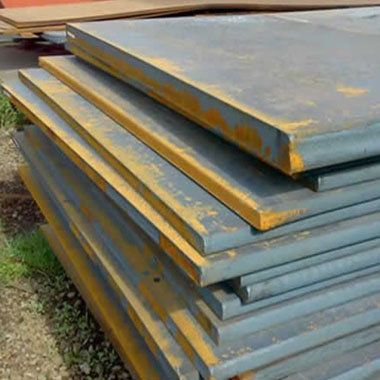 JFE EH 400 Plates Specifications
Specifications for JFE EH 400 Plates. If any specification is not mentioned here, please use the contact button for quick quote.
| | |
| --- | --- |
| Item | Abrasion Resistant Plate |
| Material | JFE EVERHARD |
| Thickness | 6mm to 50mm |
| Width | 500mm to 3000mm |
| Length | 1,0000mm to 12,000mm |
| Heat Treatment | N, Q+T |
| Surface Paint | EP, PE, HDP, SMP, PVDF |
JFE EH 400 Plates Material Application
Conveyors
Dump Truck Bodies
Loading Buckets & Bulldozers
JFE EH 400 Plates Price List
Contact us or click on request a quote button to get our competitive prices for JFE EH 400 Plates. Aspirinox Alloys INC maintain the large inventory of high-quality JFE EH 400 Plates for sale to our clients throughout globally.
JFE EH 400 Plates - Value Added Services
Mechanical Testing Such as Tensile of Area
Hardness Test
Chemical Analysis – Spectro Analysis
Positive Material Identification – PMI Testing
Flattening Test
Micro and MacroTest
Pitting Resistance Test
Flaring Test
Intergranular Corrosion (IGC) Test
Documentation & Packaging:
Commercial Invoice including HS Code
Packing List including Complete Details
Certificate of Origin legalized
Material Traceability Records
Quality Assurance Plan (QAP)
Heat Treatment Charts
Material Test Certificates (MTC)
Guarantee Letter
NABL approved Laboratory Test Reports
Exporting JFE EH 400 Plates to Below Countries
Afghanistan, Albania, Andorra, Austria, Bahrain, Bangladesh, Bhutan, Brunei, Belarus, Belgium, Bulgaria, Cambodia, China, Cyprus, Croatia, Czech Republic, Denmark, Estonia, Egypt, Finland, France, Germany, Greece, Georgia, Hungary, Iceland, Ireland, Italy, Indonesia, Iran, Iraq, Israel, Japan, Jordan, Kazakhstan, Kuwait, Kyrgyzstan, Lebanon, Latvia, Latin America, Liechtenstein, Lithuania, Luxembourg, Malta, Moldova, Monaco, Malaysia, Maldives, Mongolia, Myanmar (Burma), Nepal, North Korea, Netherlands, Norway, Oman, Poland, Portugal, Pakistan, Palestine, Philippines, Qatar, Russia, Romania, Russia, San Marino, Serbia and Montenegro, Slovakia, Slovenia, Spain, Sweden, Switzerland, Saudi Arabia, Singapore, South Korea, South Africa, Sri Lanka, Syria, Taiwan, Tanzania, Tajikistan, Thailand, Turkey, Turkmenistan, Ukraine, United Kingdom, United Arab Emirates (UAE), Uzbekistan, Vietnam, Yemen
Supplying JFE EH 400 Plates to Following Domestic Cities
Mumbai, Delhi, Kolkata, Chennai, Bengaluru, Hyderabad, Ahmadabad, Pune, Surat, Jaipur, Kanpur, Lucknow, Nagpur, Ghaziabad, Indore, Coimbatore, Kochi, Patna, Kozhikode, Bhopal, Thrissur, Vadodara, Agra, Malappuram, Thiruvananthapuram, Kannur, Ludhiana, Nashik, Vijayawada, Madurai, Varanasi, Meerut, Faridabad, Rajkot, Jamshedpur, Srinagar, Jabalpur, Asansol, Vasai Virar City, Allahabad, Dhanbad, Aurangabad, Amritsar, Jodhpur, Ranchi, Raipur, Kollam, Gwalior, Durg-Bhilainagar, Chandigarh, Tiruchirappalli, Kota
Industries & Applications Where Our JFE EH 400 Plates Are Used
Chemicals, Petrochemicals, Oil & Natural Gas Organization, Fats, Fertilizers, Sugar Mills & Distilleries, Cement Industries, Ship Builders, Paper Industries, Pumps, Automation, Paints, Steel Industries, etc.

Abrasion Resistant Sheets & Plates