Weldolet Branch Connection Fittings Manufacturer, Supplier & Exporter in India.

Weldolet Manufacturer, Weldolet Olets Supplier, Weldolet Branch Connection Fittings Stockist, Weldolet Pipe Fittings Exporter, Weldolet Olet Pipe Fittings Dealer, Stainless Steel Weldolets Trader, Carbon Steel Weldolet Distributor, SMO 254 Welding Outlets, High Quality Weldolets Exporter, MSS-SP-97 Nickel Alloy Weldolet, Duplex Steel Weldolet Exporter, High Nickel Alloy Weldolet Supplier in India.
Hastelloy Weldolet Buttweld Fittings, ASME B31.3 Weldolet Pipe Fittings, Alloy Steel Weldolet Fittings, ASME B16.11 Weldolet Pipe Fittings, Alloy 20 Weldolet Branch Fittings, Super Duplex Steel Welding Outlet, Monel Weldolet Outlet Pipe Fittings, Inconel Weldolet Fittings, Copper Alloy Weldolets, Titanium Weldolet 90 Degree Branch Connection Fittings Supplier in Mumbai, India
Aspirinox Alloys Inc is a leading manufacturer, supplier and exporter of Weldolet Pipe Fittings in India. Weldolets are the most common form of branch connection fittings. They are part of the buttweld fittings family and come in a variety of sizes, shapes, thicknesses, class, dimensions, connection type, standards & other specifications as per clients requirements. We manufacture weldolet as per national and international standards like ASME, ANSI, MSS-SP-97, JIS, BS, etc. These are designed by using high quality raw materials and under the supervision of our highly qualified engineers. We do various quality tests in the process of manufacturing weldolet so we can deliver high quality weldolet branch connection fittings to our customers.

A Weldolet is welded onto the run pipe on one side and the branch pipe on the other side since it has bevelled edges on both ends. It is a branch connection with a 90 degree angle. It is available in full size or reduced size. The Weldolet's design allows that little stress is concentrated on the branching pipe, acting as an inherent reinforcement. We maintain ready stock of weldolets in different materials and specifications to fulfill the demands of our customers across the globe.

Our Weldolet has excellent corrosion resistance and it's chemical composition also provides excellent resistance to pitting, stress-related corrosion cracking & oxidising environments. Weldolet offers excellent mechanical qualities at high temperatures. Its heat and high-temperature stability is exceptional. It has high tensile strength and good durability. We are one of the leading suppliers of weldolet for various applications & industries like oil & gas industry, paper and pulp industries, food processing industry, chemical and petrochemical industries, power generation, heat exchangers, pipe connections, etc.

Aspirinox Alloys Inc is a trusted manufacturer & exporter of weldolets at competitive prices. For any requirement of weldolet branch connection fittings you can email us at sales@aspirinox.com and our sales team will get back to you with best prices.
ASME B31.4 Weldolet Branch Connection Fittings Supplier, Weldolet Latest Prices, Buy High Quality Weldolet Fittings, Incoloy Weldolet Pipe Fittings Stockist, Weldolet at best price, Weld Outlets, High Pressure Welding Outlets Exporter, SS weldolets manufacturer in India.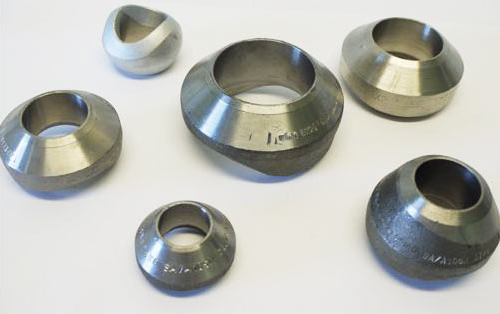 Weldolet Branch Fittings Specifications
Specifications for Weldolets Branch Connection Fittings. If any specification is not mentioned here, please use the contact button for quick quote.
| | |
| --- | --- |
| Dimensions | ASME B31.1, B31.3, B31.4, B31.8, MSS-SP-97, ASME/ANSI B16.11, etc |
| Size | 1/8″-24″, As per customer request |
| Thickness | SCH 5S, SCH 10S, SCH 40S, SCH 80S, SCH 120S |
| Class | 3000LBS, 6000LBS, 9000LBS |
| Connect Type | Welded, Bevelled |
Weldolet Available Materials & Grades
Below are some materials & grades we deal in for Weldolet Branch Connection Fittings. If any material or grade is not mentioned here, please contact us for quick quote.
| | |
| --- | --- |
| Materials | Grades |
| Stainless Steel Weldolets | Grade 304, 310, 316, 317, 347, 904L, SMO 254, etc. |
| Duplex & Super Duplex Steel Weldolets | Duplex 2205, Super Duplex 2507, Zeron 100, etc. |
| Carbon Steel Weldolets | ASTMA 105 / A694 / Gr. F42 / 46 / 52 / 56 / 60 / 65 / 70, etc. |
| Low Temperature Carbon Steel Weldolets | A350 LF3 / A350 LF2, etc. |
| Alloy Steel Weldolets | ASTM / ASME A / SA 182 F1 / F5 / F9 / F11 / F22 / F91. |
| High Nickel Alloy Weldolets | Inconel 600 (UNS NO6600), Inconel 601 (UNS NO6601), Inconel 625 (UNS NO6625), Inconle 718 (UNS N07718), Incoloy 825 (UNS NO8825), Nickel 200, 201 (UNS NO2200, NO2201), Monel 400, K500 (UNS NO4400, UNS NO5500), Alloy 20 (UNS NO8020), Hastelloy C22, C276 (UNS NO6022, UNS N10276), etc. |
| Copper Alloy Weldolets | ASTM / ASME SB 61 / 62 / 151 / 152 – C70600 (CuNi 90/10 Cupro Nickel), C71500 (Cu-Ni 70/30 Copper Nickel), Copper, etc. |
| Titanium Weldolets | Grade 2, 5, etc. |
Types of Weldolets
Stainless Steel Weldolets Supplier
Carbon Steel Welding Outlet Exporter
High Nickel Alloy Weld Outlet Stockist
Nickel Weldolets Manufacturer
Inconel Weldolets Branch Fittings Dealer
ASME B31.3 Weldolets Distributor
ANSI B16.11 Weldolets Fittings
SS Weldolet Branch Fittings Manufacturer
Incoloy Weldolet Trader
Hastelloy Weldolets Pipe Fittings
Titanium Weldolet Branch Fittings
Monel Weldolet Branch Connection Fittings
Alloy Steel Weldolet Fittings
MSS-SP-97 Weldolet Branch Fittings
Weldolets Pipe Fittings Updated Price List
To get the latest Weldolet price list, please click on the request a quote button or click here to request the updated price list and ready stock information along with your requirement. Aspirinox Alloys INC maintains a ready stock of all standard weldolets and can export them at best prices.
Weldolets Branch Pipe Fittings Value Added Services
Mechanical Testing Such as Tensile of Area
Hardness Test
Chemical Analysis – Spectro Analysis
Positive Material Identification – PMI Testing
Flattening Test
Micro and MacroTest
Pitting Resistance Test
Flaring Test
Intergranular Corrosion (IGC) Test
Documentation & Packaging:
Commercial Invoice including HS Code
Packing List including Complete Details
Certificate of Origin legalized
Material Traceability Records
Quality Assurance Plan (QAP)
Heat Treatment Charts
Material Test Certificates (MTC)
Guarantee Letter
NABL approved Laboratory Test Reports
Exporting Weldolet Branch Connection Fittings to Below Countries
Afghanistan, Albania, Andorra, Austria, Bahrain, Bangladesh, Bhutan, Brunei, Belarus, Belgium, Bulgaria, Cambodia, China, Cyprus, Croatia, Czech Republic, Denmark, Estonia, Egypt, Finland, France, Germany, Greece, Georgia, Hungary, Iceland, Ireland, Italy, Indonesia, Iran, Iraq, Israel, Japan, Jordan, Kazakhstan, Kuwait, Kyrgyzstan, Lebanon, Latvia, Latin America, Liechtenstein, Lithuania, Luxembourg, Malta, Moldova, Monaco, Malaysia, Maldives, Mongolia, Myanmar (Burma), Nepal, North Korea, Netherlands, Norway, Oman, Poland, Portugal, Pakistan, Palestine, Philippines, Qatar, Russia, Romania, Russia, San Marino, Serbia and Montenegro, Slovakia, Slovenia, Spain, Sweden, Switzerland, Saudi Arabia, Singapore, South Korea, South Africa, Sri Lanka, Syria, Taiwan, Tanzania, Tajikistan, Thailand, Turkey, Turkmenistan, Ukraine, United Kingdom, United Arab Emirates (UAE), Uzbekistan, Vietnam, Yemen
Supplying Weldolet Fittings to Following Domestic Cities
Mumbai, Delhi, Kolkata, Chennai, Bengaluru, Hyderabad, Ahmadabad, Pune, Surat, Jaipur, Kanpur, Lucknow, Nagpur, Ghaziabad, Indore, Coimbatore, Kochi, Patna, Kozhikode, Bhopal, Thrissur, Vadodara, Agra, Malappuram, Thiruvananthapuram, Kannur, Ludhiana, Nashik, Vijayawada, Madurai, Varanasi, Meerut, Faridabad, Rajkot, Jamshedpur, Srinagar, Jabalpur, Asansol, Vasai Virar City, Allahabad, Dhanbad, Aurangabad, Amritsar, Jodhpur, Ranchi, Raipur, Kollam, Gwalior, Durg-Bhilainagar, Chandigarh, Tiruchirappalli, Kota
Industries & Applications Where Our Weldolets Are Used
Chemicals, Petrochemicals, Oil & Natural Gas Organization, Fats, Fertilizers, Sugar Mills & Distilleries, Cement Industries, Ship Builders, Paper Industries, Pumps, Automation, Paints, Steel Industries, Pipe Connections, etc.