Fasteners Manufacturer & Exporter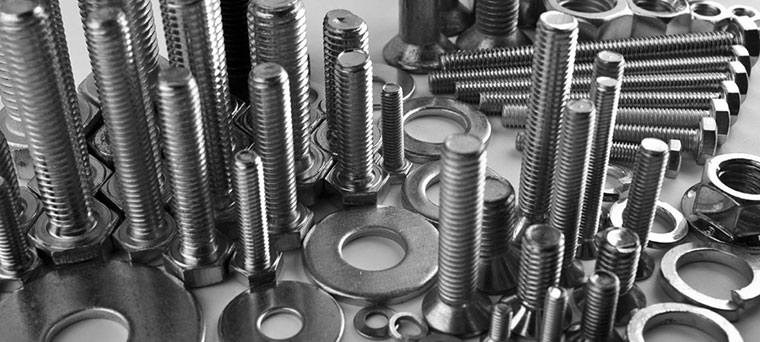 Steel Fasteners, Stainless Steel Fasteners, Most Trusted Manufacturer of Fasteners, ASTM A193 SS Fasteners, Nut & Bolts Supplier, Screws Stockist, Studs, Washers & Shims, Stainless Steel Washer Exporter
Alloy 20 Steel Fasteners, Duplex Steel Fasteners, Super Duplex Steel Fasteners, Inconel Fasteners, Monel Fasteners, Hastelloy Fasteners, Titanium Nuts & Bolts, Copper Nickel Alloy Fasteners, Aluminum Fasteners, SMO 254 Fasteners Suppliers.
Aspirinox Alloys Inc is manufacturing, supplying and exporting finest quality Industrial Fasteners in different types, shapes, sizes, forms, material grades, and other specifications. Understanding the customer's requirement and market demand, we manufacture these fasteners and deliver them to domestic as well as international markets.
Fasteners are a mechanical device that used to create a non-permanent joint, so connecting components can easily be assembled and dissembled without getting damaged. This temporary joint is a strong joint with excellent strength and toughness over a wide range of temperatures and pressure. There are different types of fasteners are available at our warehouse including screw, washers, bolts, nuts, studs, ring nut, rivet nut and more.
Moreover, Steel Fasteners are manufactured with diverse material grades like Super Duplex Fasteners, Duplex Fasteners, Inconel, Monel, Hastelloy Fasteners, Stainless Steel Nuts & Bolts, Alloy Steel, Carbon Steel, Cupronickel, and Nickel Alloy, etc. All our fasteners follow Indian and International standards such as ASME, ASTM, ANSI, AISI, BS, IS, etc.
Our manufacturing center has the most skilled team and equipped with the latest technology to produce a complete range of Fasteners based on the demands of the petrochemical, oil & gas and other industry. Get in touch with us for your specific requirement. We are here to help you with best quality product and service.
Fasteners Specifications
Specifications for Fasteners. If any specification is not mentioned here, please use the contact button for a quick quote.
| | |
| --- | --- |
| Standards | ASTM A182, ASME SA182 |
| Grades | F201, F202, F301, F302, F304, F304L, F309, F310, F316, F316L, F316LN, F317L, F321, F347, 405, 409, 410, 420, 430, 440C, F904L, Al-6XN (N08367), Nitronic 50 / 60, 422, 416, 446, Nimonic 80 (N07080), A286(S66286), 17-4ph, 15-5ph, Alloy 28 (N08028). |
| Size | M5 to M1000 |
| Length | 3 mm to 200 mm |
| Types | Bolts, Nuts, Screws, Studs, Screw, Hex Set Screw, Socket Screw, Sockets, Pan Head Screw, Machine Screw, Socket Head Cap Screw, Allen Cap screw, Wing Screw, Washers, Spring Washers, Studs, Anchors, Marine Anchors, Nut, Hexagon Nut, Cap Screw, Hex Nut, Hex Domed Cap Nuts, Square Nut, Stud Bolts, Structural Bolts, Hex Head Bolts, etc. |
| Form | Hex Bolt, Square Bolt, Stud Bolt, Threaded Bar, Allen Bolt, Flat Screw, Grub Screw, Hex Nut, Square Nut, Plain Washer, Hardlock Nut. |
Fasteners Available Materials and Grades
Aspirinox Alloys stocks a wide range of materials and grades. Below are a list of all standard Fasteners materials and grades we stock.
| Materials | Grades |
| --- | --- |
| Duplex & Super Duplex Steel Flanges | 2205 (F51, S31803 / F60, S32205), SMO254 (F44, S32154), 2507 (F53, S32750 / F55, S32760), Ferralium 255 (F61, S32550) |
| SMO 254 Flanges | SMO 254 UNS S31254 Nuts, SMO 254 Bolts, SMO 254 Screws, U Bolt, Washer, Structural Bolts |
| High Nickel Alloy Flanges | C22, C276, 600, 601, 625, 718, 800, 825, 400, 500, 20 |
| Stainless Steel Flanges | F201, F202, F301, F302, F304, F304L, F309, F310, F316, F316L, F316LN, F317L, F321, F347, 405, 409, 410, 420, 430, 440C, F904L |
| Carbon Steel Flanges | MS, Gr. B7, B8, B16, Gr. L7, 4.6, 8.8, 10.9 |
| Alloy Steel Flanges | F11, F12, F22, F5, F9, F91. |
Fasteners Updated Price List
Request the latest Fasteners List. Please click on the request a quote button or click here to request the updated price list and ready stock information along with your requirement. Aspirinox Alloys INC maintains a stock of all standard items and can export them at best price for Faseners.
Fasteners Value Added Services
Material Testing:
Mechanical Testing Such as Tensile of Area
Hardness Test
Chemical Analysis – Spectro Analysis
Positive Material Identification – PMI Testing
Flattening Test
Micro and MacroTest
Pitting Resistance Test
Flaring Test
Intergranular Corrosion (IGC) Test
Documentation & Packaging:
Commercial Invoice including HS Code
Packing List including Complete Details
Certificate of Origin legalized
Material Traceability Records
Quality Assurance Plan (QAP)
Heat Treatment Charts
Material Test Certificates (MTC)
Guarantee Letter
NABL approved Laboratory Test Reports
Exporting Fasteners to Below Countries:
Afghanistan, Albania, Andorra, Austria, Bahrain, Bangladesh, Bhutan, Brunei, Belarus, Belgium, Bulgaria, Cambodia, China, Cyprus, Croatia, Czech Republic, Denmark, Estonia, Egypt, Finland, France, Germany, Greece, Georgia, Hungary, Iceland, Ireland, Italy, Indonesia, Iran, Iraq, Israel, Japan, Jordan, Kazakhstan, Kuwait, Kyrgyzstan, Lebanon, Latvia, Latin America, Liechtenstein, Lithuania, Luxembourg, Malta, Moldova, Monaco, Malaysia, Maldives, Mongolia, Myanmar (Burma), Nepal, North Korea, Netherlands, Norway, Oman, Poland, Portugal, Pakistan, Palestine, Philippines, Qatar, Russia, Romania, Russia, San Marino, Serbia and Montenegro, Slovakia, Slovenia, Spain, Sweden, Switzerland, Saudi Arabia, Singapore, South Korea, South Africa, Sri Lanka, Syria, Taiwan, Tanzania, Tajikistan, Thailand, Turkey, Turkmenistan, Ukraine, United Kingdom, United Arab Emirates (UAE), Uzbekistan, Vietnam, Yemen
Supplying Fasteners to Following Domestic Cities
Mumbai, Delhi, Kolkata, Chennai, Bengaluru, Hyderabad, Ahmadabad, Pune, Surat, Jaipur, Kanpur, Lucknow, Nagpur, Ghaziabad, Indore, Coimbatore, Kochi, Patna, Kozhikode, Bhopal, Thrissur, Vadodara, Agra, Malappuram, Thiruvananthapuram, Kannur, Ludhiana, Nashik, Vijayawada, Madurai, Varanasi, Meerut, Faridabad, Rajkot, Jamshedpur, Srinagar, Jabalpur, Asansol, Vasai Virar City, Allahabad, Dhanbad, Aurangabad, Amritsar, Jodhpur, Ranchi, Raipur, Kollam, Gwalior, Durg-Bhilainagar, Chandigarh, Tiruchirappalli, Kota
Industries where we supply Fasteners
Chemicals, Petrochemicals, Oil & Natural Gas Organization, Fats, Fertilizers, Sugar Mills & Distilleries, Cement Industries, Ship Builders, Paper Industries, Pumps, Automation, Paints, Steel Industries, etc.