SMO 254/UNS S31254 Buttweld Fittings
SMO 254 Buttweld Fittings, UNS S31254 Butt Weld Fittings, SMO 254 Elbow, UNS S31254 Pipe Tee, SMO 254 Reducer Manufacturer, Supplier in Mumbai, India
ASTM A403 SMO 254 Seamless Buttweld Fitting, SMO 254 LR/SR Elbow, UNS S31254 Pipe End Cap, SMO 254 Stub Bend, UNS S31254 Elbow, SMO 254 Pipe Cap Exporter, UNS S31254 Tee Fittings Traders
Aspirinox Alloys Inc is a recognized manufacturer exporter and supplier of SMO 254/UNS S31254 Buttweld Fittings in India and across worldwide. SMO 254 Buttweld Fitting is highly alloyed other molybdenum, nitrogen and with low carbon level widely used in pipelines, packing and textile industries etc. Also, SMO UNS S31254 Buttweld Fittings have a ample scope of forming and bending especially cold bending and have highly resistive properties over chloride, bromides, and fluorides.
Also, SMO 254 Buttweld fitting offers higher ductility and greater tensile strength than the alternative costly alloyed pipe fittings which offers high corrosion resistance properties in extreme conditions in low cost they are widely accepted all over the globe.
Our offered range of UNS S31254 Buttweld Fitting is available in the form of elbow long radius and elbow short radius, reducing elbow, 45 degree elbow, fabricated tee, concentric and eccentric reducers, cross fittings, stub ends, pipe cap, tee fittings etc.
We design physical dimension of the buttweld pipe fitting depends on the different types of functions they are performing in diverse sectors such as are widely used in oil and gas pipeline industries, chemical industries, plumbing purposes, heat treatment industries, water supply systems, power generation industries, paper and pulp industries, fabrication industries, food processing industries and many more.
SMO 254/UNS S31254 Buttweld Pipe Fitting are cost-effective buttweld pipefitting with excellent mechanical properties, good weldability. Contact us today to request a quick quote from Aspirinox Alloys Inc.
SMO 254 Pipe Fittings, SMO 254 Deg Elbow, ASME SA403 UNS S31254 Welded Buttweld Fitting, UNS S31254 45 Deg, Elbow, UNS S31254 Reducer, SMO 254 Stub Bend Stockholders, Exporter in India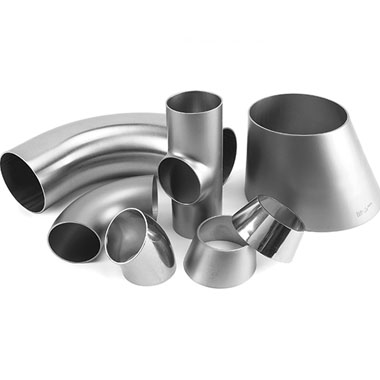 SMO 254/UNS S31254 Buttweld Fittings Specifications
Specifications for SMO 254/UNS S31254 Buttweld Fittings. If any specification is not mentioned here, please use the contact button for quick quote.
| | |
| --- | --- |
| Specifications | ASTM A403 / ASME SA403 |
| Size | 3/4″ – 12″ |
| Standards | ASME/ANSI B16.9, ASME B16.28, MSS-SP-43 |
| Thickness | 20 Swg., 18 Swg., 16 Swg., 14 Swg., 12 Swg., 10 Swg., & Sch. 10, Sch. 40, Sch. 80 etc. |
| Type | Seamless / Welded / Fabricated |
Types of ASTM A403 SMO 254 Buttweld Fittings
ASTM A403 SMO 254 Buttweld Fittings
SMO 254 Buttweld Elbow
SMO 254 Buttweld Tee
SMO 254 Buttweld Reducer
ASME SA403 SMO 254 Buttweld Return Bends
SMO 254 Buttweld Stub-Ends
SMO 254 Buttweld Cap
SMO 254 Buttweld Collar
ASTM A403 SMO 254 Buttweld Cross
SMO 254 1.5D Pipe Bend
SMO 254 Eccentric Reducer
SMO 254 Insert
ASTM A403 SMO 254 Buttweld Long Bend
SMO 254 Concentric Reducer
SMO 254 Mitter Bend
SMO 254 U Bend
ASME SA403 SMO 254 Reducing Tee
SMO 254 45 Degree Elbow
SMO 254 90 Degree Elbow
SMO 254 Equal Tee
UNS S31254 Buttweld Fittings Forms & Availability
UNS S31254 Eccentric Reducer
WERKSTOFF NR. 1.4547 Eccentric Reducer
ANSI B16.9 SMO Eccentric Reducer
UNS S31254 Concentric Reducer
WERKSTOFF NR. 1.4547 Concentric Reducer
ASTM A403 SMO Concentric Reducer
UNS S31254 Equal Tee
WERKSTOFF NR. 1.4547 Equal Tee
UNS S31254 Unequal Tee
WERKSTOFF NR. 1.4547 Unequal Tee
UNS S31254 45 Degree Elbow
WERKSTOFF NR. 1.4547 90 Degree Elbow
ASTM A403 SMO Buttweld Elbow
UNS S31254 Long Stub End
WERKSTOFF NR. 1.4547 Long Stub End
ANSI B16.9 SMO Short Stub End
WERKSTOFF NR. 1.4547 Short Stub End
UNS S31254 End Cap
WERKSTOFF NR. 1.4547 End Cap
UNS S31254 Bend
ASTM A403 SMO Bend
UNS S31254 Equal Cross
ANSI B16.9 SMO Equal Cross
UNS S31254 Reducing Cross
ASTM A403 SMO Cross
UNS S31254 Reducer
SMO 254/UNS S31254 Buttweld Fittings Updated Price List
Request the latest SMO 254/UNS S31254 Buttweld Fittings List. Please click on the request a quote button or click here to request the updated price list and ready stock information along with your requirement. Aspirinox Alloys INC maintains a stock of all standard items and can export them at best price for SMO 254/UNS S31254 Buttweld Fittings.
SMO 254/UNS S31254 Buttweld Fittings Value Added Services
Mechanical Testing Such as Tensile of Area
Hardness Test
Chemical Analysis – Spectro Analysis
Positive Material Identification – PMI Testing
Flattening Test
Micro and MacroTest
Pitting Resistance Test
Flaring Test
Intergranular Corrosion (IGC) Test
Documentation & Packaging:
Commercial Invoice including HS Code
Packing List including Complete Details
Certificate of Origin legalized
Material Traceability Records
Quality Assurance Plan (QAP)
Heat Treatment Charts
Material Test Certificates (MTC)
Guarantee Letter
NABL approved Laboratory Test Reports
Exporting SMO 254/UNS S31254 Buttweld Fittings to Below Countries
Afghanistan, Albania, Andorra, Austria, Bahrain, Bangladesh, Bhutan, Brunei, Belarus, Belgium, Bulgaria, Cambodia, China, Cyprus, Croatia, Czech Republic, Denmark, Estonia, Egypt, Finland, France, Germany, Greece, Georgia, Hungary, Iceland, Ireland, Italy, Indonesia, Iran, Iraq, Israel, Japan, Jordan, Kazakhstan, Kuwait, Kyrgyzstan, Lebanon, Latvia, Latin America, Liechtenstein, Lithuania, Luxembourg, Malta, Moldova, Monaco, Malaysia, Maldives, Mongolia, Myanmar (Burma), Nepal, North Korea, Netherlands, Norway, Oman, Poland, Portugal, Pakistan, Palestine, Philippines, Qatar, Russia, Romania, Russia, San Marino, Serbia and Montenegro, Slovakia, Slovenia, Spain, Sweden, Switzerland, Saudi Arabia, Singapore, South Korea, South Africa, Sri Lanka, Syria, Taiwan, Tanzania, Tajikistan, Thailand, Turkey, Turkmenistan, Ukraine, United Kingdom, United Arab Emirates (UAE), Uzbekistan, Vietnam, Yemen
Supplying SMO 254/UNS S31254 Buttweld Fittings to Following Domestic Cities
Mumbai, Delhi, Kolkata, Chennai, Bengaluru, Hyderabad, Ahmadabad, Pune, Surat, Jaipur, Kanpur, Lucknow, Nagpur, Ghaziabad, Indore, Coimbatore, Kochi, Patna, Kozhikode, Bhopal, Thrissur, Vadodara, Agra, Malappuram, Thiruvananthapuram, Kannur, Ludhiana, Nashik, Vijayawada, Madurai, Varanasi, Meerut, Faridabad, Rajkot, Jamshedpur, Srinagar, Jabalpur, Asansol, Vasai Virar City, Allahabad, Dhanbad, Aurangabad, Amritsar, Jodhpur, Ranchi, Raipur, Kollam, Gwalior, Durg-Bhilainagar, Chandigarh, Tiruchirappalli, Kota
Industries & Applications Where Our SMO 254/UNS S31254 Buttweld Fittings Are Used
Chemicals, Petrochemicals, Oil & Natural Gas Organization, Fats, Fertilizers, Sugar Mills & Distilleries, Cement Industries, Ship Builders, Paper Industries, Pumps, Automation, Paints, Steel Industries, etc.

SMO 254 Buttweld Fittings