347 Stainless Steel Sheets & Plates
Stainless Steel 347 Sheets Supplier, ASTM A240 UNS S34700 Plates, Stainless Steel Werkstoff Nr. 1.4550 Hot Rolled (HR) Sheets Stockists, SS 347 Coils, SS 347 Cold Rolled (CR) Plates, Stainless Steel 347 Shim Sheets Exporter in India
ASTM A240 Stainless Steel 347 Sheets Stockholder, SS 347 Plates, Stainless Steel 347 Plain Sheets, Stainless Steel 347 Perforated Sheets, SS 347 Hot Rolled / HR Plates Manufacturer & Trader
Here at Aspirinox Alloy Inc, we are one of the most eminent and foremost manufacturers, supplier, and stockists of top quality Stainless Steel 347 Sheets & Plates which are used in diverse applications across a variety of industries.
Our SS 347 Plates and Sheets are seamless in build and are made to cater to a variety of needs in terms of lengths and sizes. Further, these are available for the best prices in the market which has resulted in a large number of international exports from us.
SS 347 Hot Rolled Sheets and Plates are produced with increased creep resistance, heat conduction capacity, and excellent strength. To manufacture the materials with lower thickness, a cold rolling technique is used. Thus, SS 347 Cold Rolled Sheets and Plates can be used for coating purposes in pressure vessels and condensers.
347 Stainless Steel Perforated Sheets are fabricated for energy saving and noise reduction purposes. On the other hand, 347 Stainless Steel Chequered Plates are used at places to prevent slipping and for increased surface protection.
With many years of industry experience, we are specialized in using only the latest machinery to yield our products. SS 347 Sheets & Plates are available in a variety of standards such as the JIS, AISI, ASTM, GB, etc.
Our highly skilled team is well trained to cater to your specific requirements. Call us today to receive a free quote!
ASME SA 240 Stainless Steel UNS S34700 Sheets, Stainless Steel DIN 1.4550 Plates, ASTM A240 Stainless Steel 347 Plates, SS 347 Sheets, Stainless Steel 347 Cold Rolled Sheets Wholesaler, Provider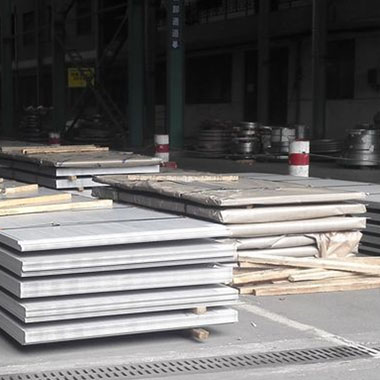 347 Stainless Steel Sheets & Plates Specifications
Specifications for 347 Stainless Steel Sheets & Plates. If any specification is not mentioned here, please use the contact button for quick quote.
| | |
| --- | --- |
| Specifications | ASTM A240 / ASME SA240 |
| Thickness | 4mm-100mm |
| Width | 1000mm, 1219mm, 1500mm, 1800mm, 2000mm, 2500mm, 3000mm, 3500mm, etc |
| Length | 2000mm, 2440mm, 3000mm, 5800mm, 6000mm, etc |
| Surface | 2B, 2D, BA, NO.1, NO.4, NO.8, 8K, mirror, checkered, embossed, hair line, sand blast, Brush, etching, etc |
| Finish | Hot rolled plate (HR), Cold rolled sheet (CR), 2B, 2D, BA NO(8), SATIN (Met with Plastic Coated) |
| Form | Coils, Foils, Rolls, Plain Sheet, Shim Sheet, Perforated Sheet, Chequered Plate, Strip, Flats, Blank (Circle), Ring (Flange) etc. |
Types of 347 SS Sheets & Plates
Stainless Steel 347 Polished Plates
SS 347 Polished Plates
347 SS Polished Plates
347 Stainless Steel Polished Plates
SS UNS S34700 Polished Plates
SS WERKSTOFF NR. 1.4550 Polished Plates
Stainless Steel 347 Hot Rolled Plates
SS 347 Hot Rolled Plates
347 SS Hot Rolled Plates
347 Stainless Steel Hot Rolled Plates
SS UNS S34700 Hot Rolled Plates
SS WERKSTOFF NR. 1.4550 Hot Rolled Plates
Stainless Steel 347 Cold Rolled Plates
SS 347 Cold Rolled Plates
347 SS Cold Rolled Plates
347 Stainless Steel Cold Rolled Plates
SS UNS S34700 Cold Rolled Plates
SS WERKSTOFF NR. 1.4550 Cold Rolled Plates
Stainless Steel 347 Sheets & Plates Forms & Availability
Stainless Steel 347 Coils
SS 347 Coils
347 SS Coils
347 Stainless Steel Coils
SS UNS S34700 Coils
SS WERKSTOFF NR. 1.4550 Coils
Stainless Steel 347 Strips
SS 347 Strips
347 SS Strips
347 Stainless Steel Strips
SS UNS S34700 Strips
SS WERKSTOFF NR. 1.4550 Strips
Stainless Steel 347 Foils
SS 347 Foils
347 SS Foils
347 Stainless Steel Foils
SS UNS S34700 Foils
SS WERKSTOFF NR. 1.4550 Foils
Stainless Steel 347 Shim Sheet
SS 347 Shim Sheet
347 Stainless Steel Shim Sheet
SS UNS S34700 Shim Sheet
SS WERKSTOFF NR. 1.4550 Shim Sheet
Stainless Steel 347 Chequered Plate
SS 347 Chequered Plate
347 SS Chequered Plate
347 Stainless Steel Chequered Plate
SS UNS S34700 Chequered Plate
SS WERKSTOFF NR. 1.4550 Chequered Plate
Stainless Steel 347 Chequered Plate
Stainless Steel 347 Perforated Sheet
SS 347 Perforated Sheet
347 SS Perforated Sheet
347 Stainless Steel Perforated Sheet
SS UNS S34700 Perforated Sheet
SS WERKSTOFF NR. 1.4550 Perforated Sheet
347 Stainless Steel Sheets & Plates Updated Price List
Contact us or click on request a quote button to get our competitive prices for Stainless Steel 347 Sheets & Plates. Aspirinox Alloys INC maintain the large inventory of high-quality Stainless Steel 347 Sheets & Plates for sale to our clients throughout globally.
SS 347 Sheets & Plates Value Added Services
Mechanical Testing Such as Tensile of Area
Hardness Test
Chemical Analysis – Spectro Analysis
Positive Material Identification – PMI Testing
Flattening Test
Micro and MacroTest
Pitting Resistance Test
Flaring Test
Intergranular Corrosion (IGC) Test
Documentation & Packaging:
Commercial Invoice including HS Code
Packing List including Complete Details
Certificate of Origin legalized
Material Traceability Records
Quality Assurance Plan (QAP)
Heat Treatment Charts
Material Test Certificates (MTC)
Guarantee Letter
NABL approved Laboratory Test Reports
Exporting 347 Stainless Steel Sheets & Plates to Below Countries
Afghanistan, Albania, Andorra, Austria, Bahrain, Bangladesh, Bhutan, Brunei, Belarus, Belgium, Bulgaria, Cambodia, China, Cyprus, Croatia, Czech Republic, Denmark, Estonia, Egypt, Finland, France, Germany, Greece, Georgia, Hungary, Iceland, Ireland, Italy, Indonesia, Iran, Iraq, Israel, Japan, Jordan, Kazakhstan, Kuwait, Kyrgyzstan, Lebanon, Latvia, Latin America, Liechtenstein, Lithuania, Luxembourg, Malta, Moldova, Monaco, Malaysia, Maldives, Mongolia, Myanmar (Burma), Nepal, North Korea, Netherlands, Norway, Oman, Poland, Portugal, Pakistan, Palestine, Philippines, Qatar, Russia, Romania, Russia, San Marino, Serbia and Montenegro, Slovakia, Slovenia, Spain, Sweden, Switzerland, Saudi Arabia, Singapore, South Korea, South Africa, Sri Lanka, Syria, Taiwan, Tanzania, Tajikistan, Thailand, Turkey, Turkmenistan, Ukraine, United Kingdom, United Arab Emirates (UAE), Uzbekistan, Vietnam, Yemen
Supplying 347 Stainless Steel Sheets & Plates to Following Domestic Cities
Mumbai, Delhi, Kolkata, Chennai, Bengaluru, Hyderabad, Ahmadabad, Pune, Surat, Jaipur, Kanpur, Lucknow, Nagpur, Ghaziabad, Indore, Coimbatore, Kochi, Patna, Kozhikode, Bhopal, Thrissur, Vadodara, Agra, Malappuram, Thiruvananthapuram, Kannur, Ludhiana, Nashik, Vijayawada, Madurai, Varanasi, Meerut, Faridabad, Rajkot, Jamshedpur, Srinagar, Jabalpur, Asansol, Vasai Virar City, Allahabad, Dhanbad, Aurangabad, Amritsar, Jodhpur, Ranchi, Raipur, Kollam, Gwalior, Durg-Bhilainagar, Chandigarh, Tiruchirappalli, Kota
Industries & Applications Where Our 347 Stainless Steel Sheets & Plates Are Used
Chemicals, Petrochemicals, Oil & Natural Gas Organization, Fats, Fertilizers, Sugar Mills & Distilleries, Cement Industries, Ship Builders, Paper Industries, Pumps, Automation, Paints, Steel Industries, etc.

Stainless Steel Sheets & Plates