Threaded Flanges
ANSI B 16.5, ASME B 16.47, MSS SP44, ASTM A182, 105, 350 Threaded Flanges / Screwed Pipe Flanges Manufacturer & Exporter in India
Stainless Steel Threaded Flanges, Carbon Steel Threaded Flanges, Alloy Steel Threaded Flanges, Nickel Alloy Weld Threaded Flanges, Monel Threaded Flanges, Hastelloy Threaded Flanges Dealer in India
Threaded flanges consist of tapered threads and are used along with externally threaded valves and pumps. Aspirinox Alloys Inc is an eminent manufacturer and trader of Threaded Pipe Flanges which also known as screwed flanges at affordable prices. Our Raised Face Threaded Flanges attract a huge number of customers for their economic prices. Due to the distinguished properties of our Threaded Pipe Flanges, they have colossal demand in the market.
Our ANSI B 16.5 Threaded Flanges are widely used for high pressure and fewer diameter purposes. On the other hand, our ASME B 16.48 Threaded Flanges can be connected to pipes without welding. Our DIN Threaded Flanges have various industrial applications for which they are exported to many countries across the world.
Properties and features of all our products along with their respective prices are showcased on our official website. Special offers and discounts are also laid on some goods. Hurry up and contact us place your order right now!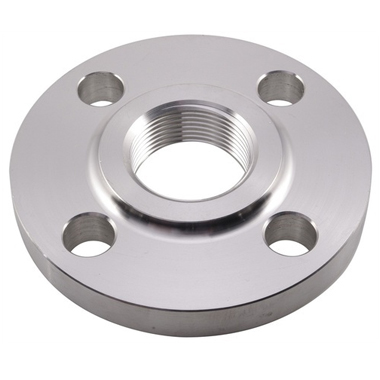 Threaded Flanges Specifications
| | |
| --- | --- |
| Size | ½" (15 NB) to 48″ (1200NB) |
| Class | 150 LBS, 300 LBS, 600 LBS, 900 LBS, 1500 LBS, 2500 LBS, DIN Standard ND-6,10, 16, 25, 40 Etc. |
| Standards | ANSI B16.5, ANSI B16.47, MSS SP44, ANSI B16.36, ANSI B16.48 |
| DIN | DIN2527, DIN2566, DIN2573, DIN2576, DIN2641, DIN2642, DIN2655, DIN2656, DIN2627, DIN2628, DIN2629, DIN 2631, DIN2632, DIN2633, DIN2634, DIN2635, DIN2636, DIN2637, DIN2638, DIN2673 |
| B.S | BS4504 , BS4504, BS1560, BS10 |
| Flange Face Type | Flate Face (FF), Raised Face (RF), Ring Type Joint (RTJ) |
| Coating/Surface Treatment | Anti-rust Paint, Oil Black Paint, Yellow Transparent, Zinc Plated, Cold and Hot Dip Galvanized |
Grade Specifications of Threaded Flanges
Stainless Steel Threaded Raised Face Flanges
Standard
ASTM A182 , A240
Grades
F 304, 304L, 304H, 316, 316Ti, 316H, 316L, 316LN, 309S, 309H, 310S, 310H,317, 317L, 321, 321H, 347, 347H, 201, 202, 904L
Carbon Steel Threaded Raised Face Flanges
Standard
ASTM A105
Grades
Gr. F42,46,52,56,60,65,70
Alloy Steel Threaded Raised Face Flanges
Standard
ASTM A182
Grades
F1,F5,F9,F11,F22,F91
Nickel Alloy Steel Threaded Raised Face Flanges
Standard
ASTM SB564, SB160, SB472, SB162
Grades
Nickel 200 (UNS No. N02200), Nickel 201 (UNS No. N02201), Monel 400 (UNS No. N04400), Monel 500 (UNS No. N05500), Inconel 800 (UNS No. N08800), Inconel 825 (UNS No. N08825), Inconel 600 (UNS No. N06600), Inconel 625 (UNS No. N06625), Inconel 601 (UNS No. N06601), Hastelloy C 276 (UNS No. N10276), Alloy 20 (UNS No. N08020),
Copper Alloy Threaded Raised Face Flanges
Standard
ASTM SB 61 , SB62 , SB151 , SB152
Grades
UNS No. C 70600 (Cu-Ni 90/10), C 71500 (Cu-Ni 70/30), UNS No. C 10100, 10200, 10300, 10800, 12000, 12200,
Duplex Steel Slip-On Raised Face Flanges
Standard
ASTM A182, A240
Grades
UNS F 44, F 45, F51, F 53, F 55, F 60, F 61
Types of Threaded Flanges
Industry Standard Class 75 Threaded Flanges
Industry Standard Class 150 Threaded Flanges
Industry Standard Class 175 Threaded Flanges
Industry Standard Class 250 Threaded Flanges
Industry Standard Class 300 Threaded Flanges
Industry Standard Class 350 Threaded Flanges
Plate Threaded Flanges
Ring Type Joint Threaded Flanges
Drawing Threaded Flanges
Square Threaded Flanges
Nipo Threaded Flanges
Reducing Threaded Flanges
Forged Threaded Flanges
Stainless Steel Threaded Flanges
Industry Standard Class 125 Light-weight Threaded Flanges
Industry Standard Class 125/150 Threaded Flanges
Other Standards of ANSI / ASME / DIN Threaded Flanges
ANSI B16.5 Threaded Flanges
ANSI B16.5 Class 150 Threaded Flanges
ANSI B16.5 Class 300 Threaded Flanges
ANSI B16.5 Class 400 Threaded Flanges
ANSI B16.5 Class 600 Threaded Flanges
ANSI B16.5 Class 900 Threaded Flanges
ANSI B16.5 Class 1500 Threaded Flanges
ANSI B16.5 Class 2500 Threaded Flanges
ASME B16.47 Series A Threaded Flanges
ASME B16.47 Series B Threaded Flanges
ANSI B16.36 Orifice Threaded Flanges
DIN Threaded Flanges PN6-PN40
Threaded Flanges Updated Price List
Request the latest Threaded Flanges List. Please click on the request a quote button or click here to request the updated price list and ready stock information along with your requirement. Aspirinox Alloys INC maintains a stock of all standard items and can export them at best price for Threaded Flanges.
Threaded Flanges Value Added Services
Mechanical Testing Such as Tensile of Area
Hardness Test
Chemical Analysis – Spectro Analysis
Positive Material Identification – PMI Testing
Flattening Test
Micro and MacroTest
Pitting Resistance Test
Flaring Test
Intergranular Corrosion (IGC) Test
Documentation & Packaging:
Commercial Invoice including HS Code
Packing List including Complete Details
Certificate of Origin legalized
Material Traceability Records
Quality Assurance Plan (QAP)
Heat Treatment Charts
Material Test Certificates (MTC)
Guarantee Letter
NABL approved Laboratory Test Reports
Exporting Threaded Flanges to Below Countries
Afghanistan, Albania, Andorra, Austria, Bahrain, Bangladesh, Bhutan, Brunei, Belarus, Belgium, Bulgaria, Cambodia, China, Cyprus, Croatia, Czech Republic, Denmark, Estonia, Egypt, Finland, France, Germany, Greece, Georgia, Hungary, Iceland, Ireland, Italy, Indonesia, Iran, Iraq, Israel, Japan, Jordan, Kazakhstan, Kuwait, Kyrgyzstan, Lebanon, Latvia, Latin America, Liechtenstein, Lithuania, Luxembourg, Malta, Moldova, Monaco, Malaysia, Maldives, Mongolia, Myanmar (Burma), Nepal, North Korea, Netherlands, Norway, Oman, Poland, Portugal, Pakistan, Palestine, Philippines, Qatar, Russia, Romania, Russia, San Marino, Serbia and Montenegro, Slovakia, Slovenia, Spain, Sweden, Switzerland, Saudi Arabia, Singapore, South Korea, South Africa, Sri Lanka, Syria, Taiwan, Tanzania, Tajikistan, Thailand, Turkey, Turkmenistan, Ukraine, United Kingdom, United Arab Emirates (UAE), Uzbekistan, Vietnam, Yemen
Supplying Threaded Flanges to Following Domestic Cities
Mumbai, Delhi, Kolkata, Chennai, Bengaluru, Hyderabad, Ahmadabad, Pune, Surat, Jaipur, Kanpur, Lucknow, Nagpur, Ghaziabad, Indore, Coimbatore, Kochi, Patna, Kozhikode, Bhopal, Thrissur, Vadodara, Agra, Malappuram, Thiruvananthapuram, Kannur, Ludhiana, Nashik, Vijayawada, Madurai, Varanasi, Meerut, Faridabad, Rajkot, Jamshedpur, Srinagar, Jabalpur, Asansol, Vasai Virar City, Allahabad, Dhanbad, Aurangabad, Amritsar, Jodhpur, Ranchi, Raipur, Kollam, Gwalior, Durg-Bhilainagar, Chandigarh, Tiruchirappalli, Kota
Industries & Applications Where Our Threaded Flanges Are Used
Chemicals, Petrochemicals, Oil & Natural Gas Organization, Fats, Fertilizers, Sugar Mills & Distilleries, Cement Industries, Ship Builders, Paper Industries, Pumps, Automation, Paints, Steel Industries, etc.