Reducing Cross Buttweld Fittings
Stainless Steel Reducing Cross, Carbon Steel Reducing Cross Fittings, Nickel Alloy Reducing Cross, Alloy Steel Reducing Cross Pipe Fittings Manufacturer & Exporter
ASME / ANSI B 16.9 Reducing Cross Buttweld Fittings, ASTM A403 SS Reducing Cross, ANSI B16.28 Reducing Cross Pipe Fittings Suppliers & Dealers in India
Aspirinox Alloys Inc is one of the best Metal Product Supplying and Manufacturing companies, providing high-quality Buttweld Reducing Cross pipe fitting manufacturers. A reducing buttweld cross pipe fitting is used to distribute the flow of a fluid in 3 different directions. One being the inlet and the other 3 pipe connections are outlets in different directions. It is in the shape of a "+". When the size of the branches is not equal or symmetrical then it is called a reducing cross pipe fitting. This type of fitting can be used when an equal distribution of fluid is not needed and the branch pipe sizes are not the same.
We stock Male Reducing Cross pipe fittings, Female Reducing Cross Pipe fittings for their varied uses. Our high standard ANSI B16.9 Reducing Cross Fittings, hydraulic Reducing Cross fittings and Forged Reducing Cross fittings are in high demand due to their consistent quality. They are preferred as they help a seamless flow of fluid. These Buttweld Reducing Cross Fittings ensure a smooth flow as there are no pockets or sharp edges which would otherwise reduce the pressure of the flow. Our Stainless Steel Reducing Cross Pipe Fittings are highly reliable and guaranteed product.
Aspirinox Alloys Inc is a quality Buttweld Reducing Cross supplier. Contact us today to give us a chance to provide you with the best quality products at affordable prices.
Reducing Cross Buttweld Fittings Details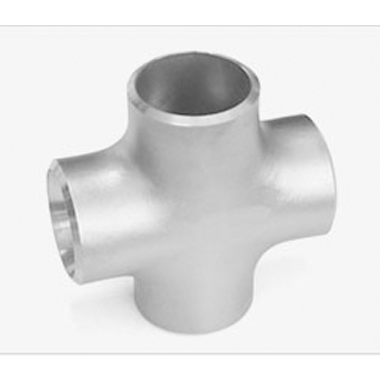 Reducing Cross Buttweld Fittings Specifications
| | |
| --- | --- |
| Standards | ANSI – B 16.9, ASTM A403 – ASME SA403 – 'Standard Specification for Wrought Austenitic Stainless Steel Piping Fittings', API 590-605, ASME B16.9 – 'Factory-Made Wrought Buttwelding Fittings", ASME B16.25 – 'Buttwelding Ends', ASME B16.28 – 'Wrought Steel Buttwelding Short Radius Elbows and Returns', MSS SP-43 – 'Wrought and Fabricated Butt-Welding Fittings for Low Pressure, Corrosion Resistant Applications' |
| Schedule | Sch 5 TO Sch XXS. |
| Sizes | 1/2″NB TO 48″NB IN / 1/2" TO 36", (SEAMLESS UPTO 24"), (WELDED 8" TO 36" ) |
| Materials | Monel, Nickel, Inconel, Hastalloy, Titanium, Tantalum, Stainless Steel, Alloy Steel, Carbon Steel, Cupro-Nickel 90/10 & 70/30, Stainless Steel ASME / ASTM SA / A403 SA / A 774 WP-S, WP-W, WP-WX, 304, 304L, 316, 316L, 304/304L, 316/316L, DIN 1.4301, DIN1.4306, DIN 1.4401, DIN 1.4404 |
| Type | Butt Weld (BW) – straight cross, reducing cross |
| Thickness | Schedule 5S, 10S, 20S, S10, S20, S30, STD, 40S, S40, S60, XS, 80S, S80, S100, S120, S140, S160, XXS and etc. |
| Dimension | ANSI B16.9, ANSI B16.28, MSS-SP-43 Type A, MSS-SP-43 Type B, JIS B2312, JIS B2313 |
Buttweld Reducing Cross Material & Grades
Stainless Steel Buttweld Reducing Cross
ASTM A403 WP316/316L, ASTM A403 SA / A 774 WP-S, WP-W, WP-WX 304/304L, ASTM A182 F316L, 304L, DIN 1.4301, DIN1.4306, DIN 1.4401, DIN 1.4404
Duplex & Super Duplex Steel Buttweld Reducing Cross
ASTM A 815, ASME SA 815 UNS NO S31803, S32205. UNS S32750, S32950. Werkstoff No. 1.4462
Carbon Steel Buttweld Reducing Cross
ASTM A234, ASME SA234 WPB , WPBW, WPHY 42, WPHY 46, WPHY 52, WPH 60, WPHY 65 & WPHY 70.
Low Temperature Carbon Steel Buttweld Reducing Cross
ASTM A420 WPL3, A420 WPL6
Alloy Steel Buttweld Reducing Cross
ASTM / ASME A/SA 234 Gr. WP 1, WP 5, WP 9, WP 11, WP 12, WP 22, WP 91
Nickel Alloy Buttweld Reducing Cross
ASTM B336, ASME SB336, Nickel 200 (UNS No. No2200), Nickel 201 (UNS No. N02201), Monel 400 (UNS No. N04400), Monel 500 (UNS No. N05500), Inconel 800 (UNS No. N08800), Inconel 825 (UNS No. N08825), Inconel 600 (UNS No. N06600), Inconel 625 (UNS No. N06625), Inconel 601 (UNS No. N06601), Hastelloy C 276 (UNS No. N10276), Alloy 20 (UNS No. N08020), Titanium (Grade I & II), Cupro-Nickel 70/30, CuNi10Fe1Mn, CuNi30Mn1Fe.
Types of Reducing Cross Buttweld Fittings
Stainless Steel Buttweld Cross
Duplex Stainless Steel Cross
Alloy Steel Buttweld Cross
Stainless Steel Cross
Carbon Steel Cross
Alloy Steel Cross
Carbon Steel Buttweld Cross
Super Duplex Cross
Buttweld Reducing Cross
Butt Weld Cross
Steel Cross Pipe Fittings
Stainless Steel Reducing Cross
SS Reducing Cross
Welded Butt weld Reducing Cross
Seamless Butt weld Reducing Cross
Carbon Steel Lateral Cross
High Quality Reducing Cross
Duplex Steel Buttweld Cross
Super Duplex Steel Buttweld Cross
Copper Nickel Cross
High Nickel Alloy Cross
Hastelloy Cross Stockist
Titanium Buttweld Cross
Inconel Butt weld Cross
Other Standards of Reducing Cross Buttweld Fittings
ASME B16.9 Cross
ASME B16.25 Cross
MSS SP-75 Cross
SCH10 Cross
SCH20 Cross
SCH30 Cross
STD SCH40 Cross
Duplex Steel Cross
SCH60 Cross
SCH XS Cross
SCH80. Cross
DIN 2605 Cross
DIN 2609 Cross
DIN 2617 Cross
EN 10253-3 Cross
A234WPC Cross
A420 WPL6 Cross
SCH160 Cross
DIN 2615 Cross
DIN 2616 Cross
SCH100 Cross
SCH120 Cross
SCH140 Cross
EN 10253-1 Cross
ASME B16.9 Butt weld Reducing Cross
ANSI B16.9 Buttweld Cross
ASME B16.28 Buttweld Pipe Cross
A234 AISI 4130 High Strength Low Alloyed Steel Cross
EN 10253-2 Cross
SCH XXS Cross
Reducing Cross Buttweld Fittings Updated Price List
Request the latest Reducing Cross Buttweld Fittings List. Please click on the request a quote button or click here to request the updated price list and ready stock information along with your requirement. Aspirinox Alloys INC maintains a stock of all standard items and can export them at best price for Reducing Cross Buttweld Fittings.
Reducing Cross Buttweld Fittings Value Added Services
Mechanical Testing Such as Tensile of Area
Hardness Test
Chemical Analysis – Spectro Analysis
Positive Material Identification – PMI Testing
Flattening Test
Micro and MacroTest
Pitting Resistance Test
Flaring Test
Intergranular Corrosion (IGC) Test
Documentation & Packaging:
Commercial Invoice including HS Code
Packing List including Complete Details
Certificate of Origin legalized
Material Traceability Records
Quality Assurance Plan (QAP)
Heat Treatment Charts
Material Test Certificates (MTC)
Guarantee Letter
NABL approved Laboratory Test Reports
Exporting Reducing Cross Buttweld Fittings to Below Countries
Afghanistan, Albania, Andorra, Austria, Bahrain, Bangladesh, Bhutan, Brunei, Belarus, Belgium, Bulgaria, Cambodia, China, Cyprus, Croatia, Czech Republic, Denmark, Estonia, Egypt, Finland, France, Germany, Greece, Georgia, Hungary, Iceland, Ireland, Italy, Indonesia, Iran, Iraq, Israel, Japan, Jordan, Kazakhstan, Kuwait, Kyrgyzstan, Lebanon, Latvia, Latin America, Liechtenstein, Lithuania, Luxembourg, Malta, Moldova, Monaco, Malaysia, Maldives, Mongolia, Myanmar (Burma), Nepal, North Korea, Netherlands, Norway, Oman, Poland, Portugal, Pakistan, Palestine, Philippines, Qatar, Russia, Romania, Russia, San Marino, Serbia and Montenegro, Slovakia, Slovenia, Spain, Sweden, Switzerland, Saudi Arabia, Singapore, South Korea, South Africa, Sri Lanka, Syria, Taiwan, Tanzania, Tajikistan, Thailand, Turkey, Turkmenistan, Ukraine, United Kingdom, United Arab Emirates (UAE), Uzbekistan, Vietnam, Yemen
Supplying Reducing Cross Buttweld Fittings to Following Domestic Cities
Mumbai, Delhi, Kolkata, Chennai, Bengaluru, Hyderabad, Ahmadabad, Pune, Surat, Jaipur, Kanpur, Lucknow, Nagpur, Ghaziabad, Indore, Coimbatore, Kochi, Patna, Kozhikode, Bhopal, Thrissur, Vadodara, Agra, Malappuram, Thiruvananthapuram, Kannur, Ludhiana, Nashik, Vijayawada, Madurai, Varanasi, Meerut, Faridabad, Rajkot, Jamshedpur, Srinagar, Jabalpur, Asansol, Vasai Virar City, Allahabad, Dhanbad, Aurangabad, Amritsar, Jodhpur, Ranchi, Raipur, Kollam, Gwalior, Durg-Bhilainagar, Chandigarh, Tiruchirappalli, Kota
Industries & Applications Where Our Reducing Cross Buttweld Fittings Are Used
Chemicals, Petrochemicals, Oil & Natural Gas Organization, Fats, Fertilizers, Sugar Mills & Distilleries, Cement Industries, Ship Builders, Paper Industries, Pumps, Automation, Paints, Steel Industries, etc.

Types of Buttweld Fittings